Each year Forbes ranks the world based on its wealthiest people. In this blog, we take a closer look at the most prosperous people in Nigeria and their business connections.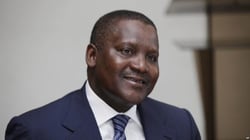 Aliko Dangote
#1 Aliko Dangote, 61
Dangote Industries Ltd (Dangote Group) chairman, Aliko Dangote, has retained his position as the richest man in Nigeria, despite losing almost US$2bn in the last year as a result of his Lekki Nigeria project, the Dangote Refinery. He is now worth US$10.5bn with a 100% ownership in Dangote Industries Ltd and 90% stake in Dangote Nigeria Ltd.
Mr Dangote is heavily engaged in improving health and education through his Aliko Dangote Foundation, the largest non-profit organisation of this type in sub-Saharan Africa. Earlier this year, the foundation pledged to provide grants totalling US$3.06m to 106,000 women.
Read more in our blog: The Dantatas, the Dangotes and a bid to transform Nigeria's downstream oil industry.