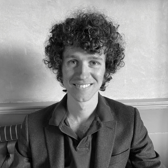 Fitzroy Morrissey is a historian of the Islamic world and a Fellow of All Souls College, Oxford. He speaks Arabic and Persian and has a DPhil in Oriental Studies from Oxford, where he currently teaches on the Islamic Studies, Middle Eastern Studies and Theology courses. He works on the intellectual history of the Muslim world, focusing on Sufism, Islamic philosophy, Muslim views of other religions and modern Islamic thought.
read also
Sami Daghistani, The Making of Islamic Economic Thought (Cambridge University Press, 2021).
Harris Irfan, Heaven's Bankers (Constable, 2015).
Timur Kuran, Islam and Mammon: The Economic Predicaments of Islamism (Princeton University Press, 2004).
Maxime Rodinson, Islam and Capitalism (Saqi, 2007).
Charles Tripp, Islam and the Moral Economy: The Challenge of Capitalism (Cambridge University Press, 2006).