Digital technologies are disrupting economies globally and the GCC is no exception. According to Mergermarket, there were approximately 40 technology-related M&A transactions in the region between 2015 and 2017, focused on software, internet, telecoms and online commerce. Here we look at 3 Gulf countries and how they compare in their approach to embracing advances in technology.
UAE
The UAE is actively encouraging tech start-ups in a bid to future-proof its oil, trade and tourism-dependent economy.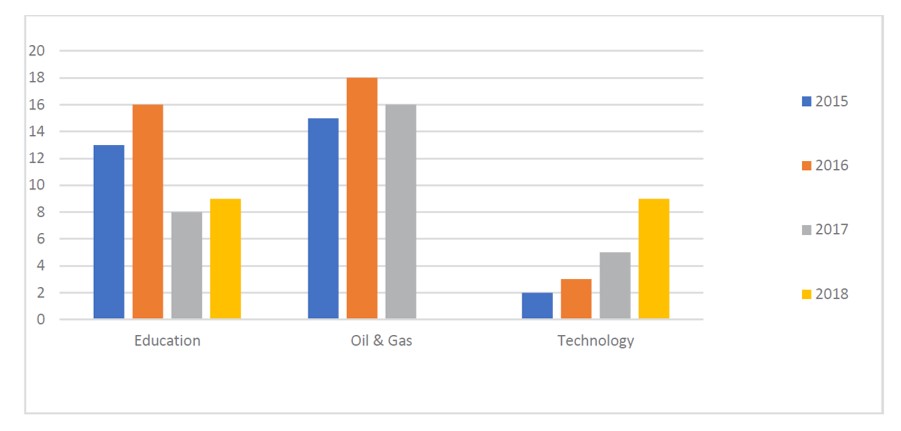 Source: Gulf Capital SME Awards Research Report.


Saudi Arabia
Saudi Arabia is also making efforts to diversify its economy away from finite oil reserves.
The Ministry of Communications and Information Technology launched a five-year strategy aimed at accelerating the sector's growth by 50% and raising its contribution to GDP by US$13.3bn.
Saudi Advanced Technologies Company recently formed a JV with WISeKey to provide cybersecurity, Internet of Things and blockchain services and, in 2018, Saudi Arabian General Investment Authority (SAGIA) issued the first international incubator license to AstroLabs, a Dubai-based learning academy for digital technology companies.
Saudi Arabia is among the world's biggest investors in Silicon Valley, participating in investments totaling more than US$6.2bn over the last five years. The Saudi Public Investment Fund invests in US tech companies such as Uber, Lyft, MagicLeap, Lucid Motors and Beamreach Solar.
Bahrain
The United Nations recognised Bahrain for being the first Gulf country to liberalise its telecoms sector and ranked it as having the best telecoms infrastructure in the GCC.
Tamkeen, a semi-government agency that trains and aids entrepreneurs and start-ups, is paving the way for Bahrain's diversification for technology-driven growth. Pay Tabs is a top tech start up in Bahrain; other examples include OneGCC, Munfarid Consulting Co., Nural, Inagrab, Malaeb, Skiplino Rain and Getbaqala.
GCC countries have realised that to be a successful technology hub like Silicon Valley, Singapore or London depends on creating an ecosystem where investors, tech talent and the right infrastructure can combine to inspire innovative ideas. So while the Gulf may have been slower off the mark, there is no shortage of ambition and resources, so the race to be the regional leader in technology is very much open.